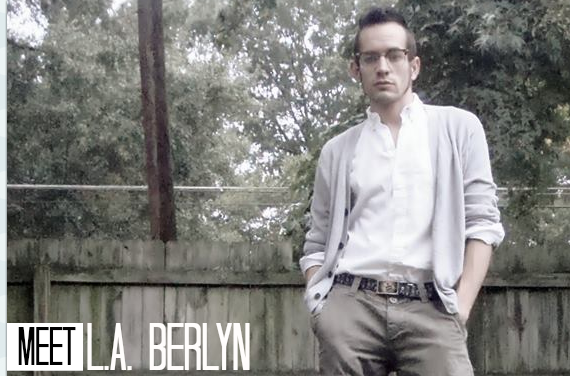 L.A. Berlyn is a nice guy with a nice upbringing, who was raised in a very small town in Virginia. He credits his home town, where dancing wasn't allowed, as the reason he turned to the creative side of things. "All we had to do on a Friday night was to either hang out in the Wal-Mart parking lot or look at ratty taxidermy at the natural history museum. I had to do something else," he says.

L.A. received his BA in Fashion Marketing and Design from Montserrat College of Art and Design, in Beverly Massachusetts. Shortly after, he left for New York to be the next Michael Alig, minus the sordid drugs and murder. That plan didn't last very long and he found himself bouncing around from California, Florida, and back to his home state before settling in North Carolina.
Working in what he calls, "the business of pretty," he has covered almost all of the bases. He has been a visual merchandiser for several top design companies; a personal stylist, dressing the Charlotte area's glitterati; and in 2009 had several successful jewelry designs for, Bad Girl Pearls, which were sold in high-end boutiques.

In 2011, he launched, Milo, a small trunk show of his one-of-a-kind and reworked vintage wear for men.
L.A. started doing makeup in high school, after spending too much time watching his mother in the studio. "I was fascinated by the transformations that I saw people go through before they got in front of my mother's camera," he says, "twenty minutes went by and these Plain Jane girls turned into Vogue models." His work, in the beginning, was very tame and verging on Glamour Shot territory. His style later evolved into a more artistic approach after devouring everything he could about Kevyn Aucoin. His new inspiration led him to incorporate anything his mind could think of. Everything from Dali references, to, the ultimate glamorous puss, Barbie went into his creations.
His appetite for special effects makeup was wetted when a friend, who was working on a low budget horror spoof, Texas Chainsaw Mascara, asked if he could come up with some designs for zombie drag queens. "It was the most absurd idea I had ever heard of, so I ate it up. I had no idea what I was doing, but I figured it out eventually."

He has continued to produce effects ranging from the simple to horrific for clients ranging from photographers to haunted attractions. "I even do it to myself out of boredom. My main goal is to make my roommate vomit one day. When that happens, I know I can move on to Hollywood," he says. He shares his work and tutorials on his youtube channel, Imaginary Makeup.
L.A. has always kept a journal for as long as he can remember.

He was influenced by Ana
ï
s Nin's journals and how they were written. He has since gone on to create the popular blog, The Handsome Savage, as well as freelance writing for several Charlotte publications, concentrating on the Night life in the area with his trademark wit and observational style.
He has always believed that books are better than gold in the bank. "You can learn so much from a book. It's a shame not everyone picks them up anymore. Most of my inspirations from something I've seen in a book." So it is no surprise that on his list of most current ventures, he lists working on a book. "It's so cliché," says, "everyone is writing a book, but it's something I've always wanted to do." This motto of doing things that interests him has been the driving force for his work in the beauty and fashion industry as well as his other projects. Outside of the book, he is currently working on another trunk show of reworked vintage clothing, a gallery collaboration of his makeup designs, and is working towards another degree, this time in Interior design. He continues to document his life, his projects, and the mad mind he has on his website.
Originally written for Underground Magazine, by Jonathon Cliner.